Hole 1
369 Yards, Par 4
The tee shot for the 369-yard hole is important, as it must cross a natural swale bordering the fairway's left side. The second shot must carry over a natural hollow a green that is guarded on the left by a bunker.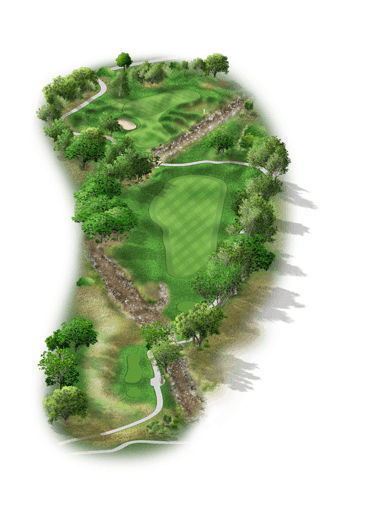 Hole 2
407 Yards, Par 4
The golfer must contend with an uphill slope, sand traps and numerous mature trees all the way to the green on this 407-yard, dogleg-left hole. A solid, accurate drive is a must here.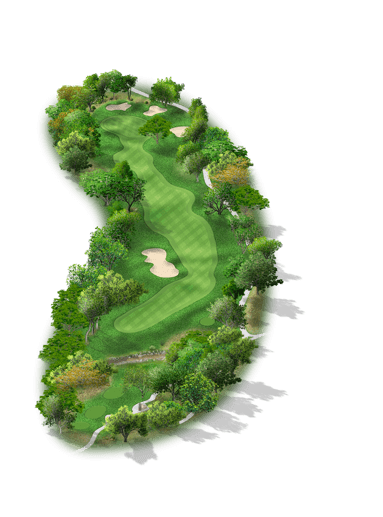 Hole 3
328 Yards, Par 4
A well placed tee shot on this dog-leg right 328 yard Par 4, will leave only a short approach shot to the green. Avoiding the trap guarding the front of the green will provide an opportunity for a birdie.
Hole 4
420 Yards, Par 4
Playing to the right side of the fairway provides the best view of the green. A well-placed tee shot leaves a mid-iron approach into the green, which is fronted by a low rocky ledge. This is a beautiful, natural golf hole.
Hole 5
172 Yards, Par 3
Accuracy is important on this 172-yard, Par 3. With a serene lake to along the left side of the hole and a creek bed running in front of the green turn this mid length Par 3 into a wonderful golf hole.
Hole 6
540 Yards, Par 5
This 540-yard, Par 5 is a long, dogleg left hole that cuts through thick stands of broad-branched trees. A birdie is a possibility here if the several deep traps protecting the green can be avoided.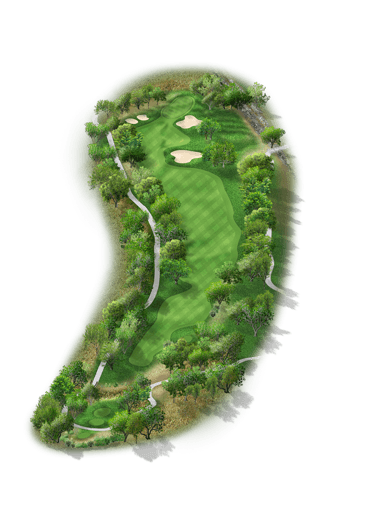 Hole 7
458 Yards, Par 4
This 458-yard hole is the course's longest Par 4. This uphill hole cuts its way through a shady wooded area to an expansive meadow containing the crescent-shaped green. With a natural draw along the right side of the fairway and a shallow grassy swale fronting the green, this hole is a true challenge for players of every caliber.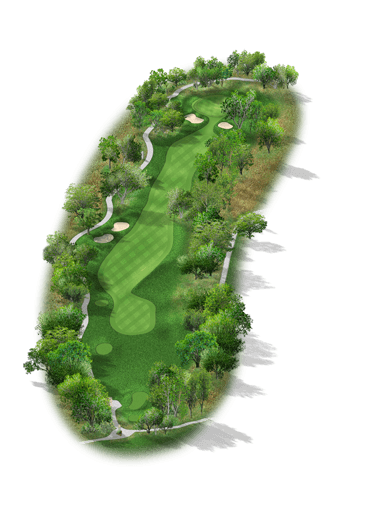 Hole 8
195 Yards, Par 3
Turning toward home, this medium-length, 195-yard, Par 3 comes back down toward the clubhouse and hotel facilities. It's a visually simple and delicate little hole that can be quite unforgiving if your ball finds one of the hazards gaurding the green.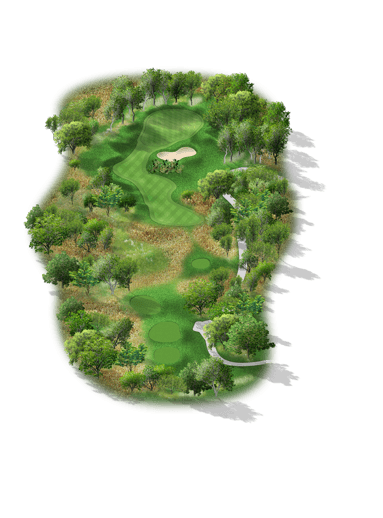 Hole 9
549 Yards, Par 5
The closing hole is a dramatic, 549-yard, Par 5. Continuing along the natural draw, the fairway falls off left at the first landing area and then crosses two twisting grassy swales to the second landing area. A soft, high approach shot to the big double green will help the golfer avoid the lake in front of the green.